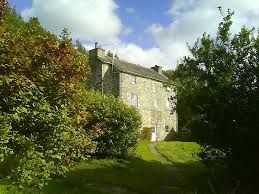 A cluster of converted farm buildings in the North Wales hills, Vajraloka Meditation Retreat Centre is a wonderful resource for anyone who wants to meditate in beautiful and tranquil surroundings. 
I've been attending retreats at Vajraloka for many years and these days I spend a week each year on a practice retreat, where there is a skeleton programme, but no teaching. People use the shrine room to pursue their own meditation practice in their own time. Other retreats are led by experienced meditation teachers from the Triratna Buddhist Order. Some are only for men, but the majority are mixed.
Little known outside The Triratna Buddhist Community, Vajraloka was established in 1981 and is one of the UK's longest-established Buddhist retreat centres. It is run by a small community of men, most of whom also share much of the teaching. They are very experienced – several of them have over 30 years experience of meditation and Buddhism – and they are all devoted to meditation and to sharing their experience with others.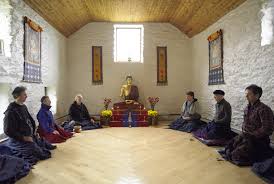 I love Vajraloka's shrine room. It's a converted stone barn with thick, whitewashed walls and a beautiful wooden floor. It has been used consistently for meditation since 1981, and the room is filled with a palpable vibration. The air seems to hum quietly in a way that is connected with concentration and peace. I haven't been anywhere that feels more supportive of meditation practice.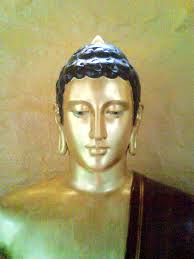 The shrine focuses on an elegant Buddha image – Shakyamuni or Amitabha as you prefer. It's in the Hellenistic style, with a classical Greek twist, in the manner of quite a few rupees in Triratna Buddhist Centres. The artist is Chintamani who also created the rupas in the shrine rooms at the Triratna Centres in Manchester, East London and elsewhere.
Vajraloka is near Corwen, in the North Wales hills. I usually go in the middle of the winter when wind and rain sweep across the landscape and it doesn't look at all like the pastoral greenery you see in these photos. Personally, I enjoy sitting in the thick walled shrine room while a storm is howling outside.
Vajraloka is small enough to have allow an intimate sense of connection with the others on a retreat. Even if you are in silence, you can feel a strong sense of community.
I'd like to help spread the word about Vajraloka a little further. Some of its retreats are open to people with no connection with Triratna, and some are for relative newcomers. Its website, with details of the programme is here.